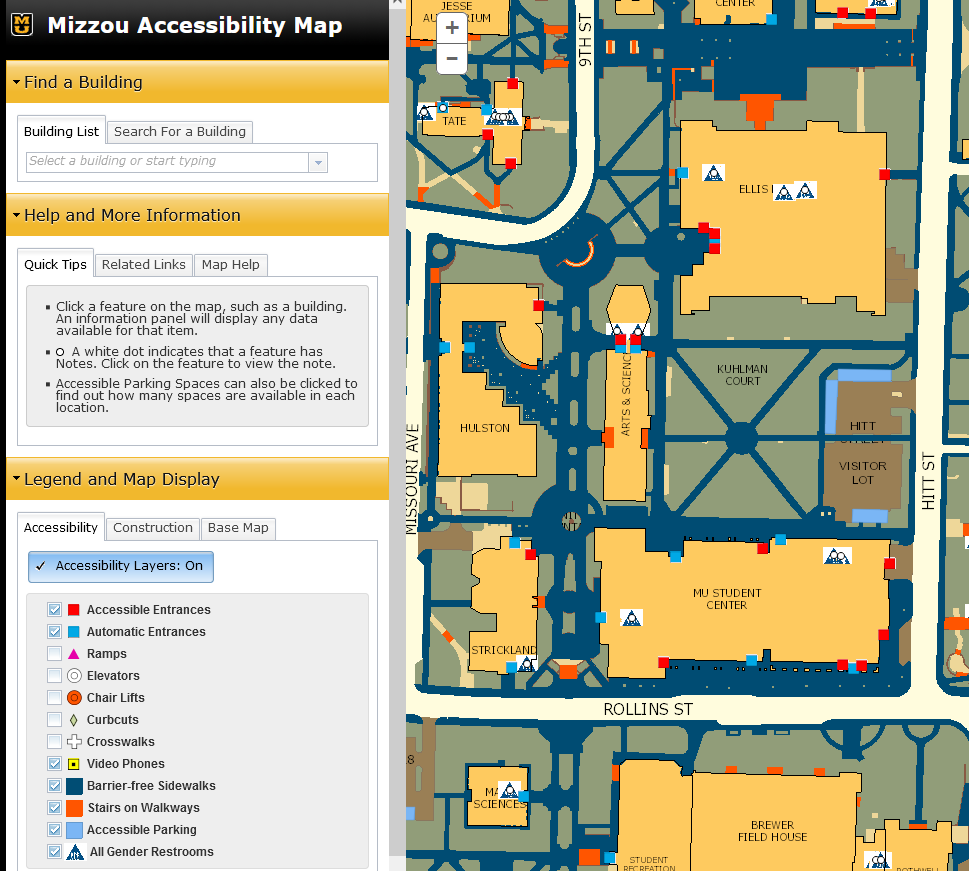 MU Campus Accessibility Map:
Mizzou maintains a detailed map of accessibility features on campus, including entrances, stair-free sidewalks, ADA parking spots, elevators, and restrooms. To use the map, first zoom in closely on the area of campus you are interested in visiting or type the name of a building into the "find a building" search area, and then select the types of features that are most important to you from the legend. To view locations of accessible restrooms, click on the building to view a pop up window with restroom locations.
The Importance of Accessibility:
Accessibility is key to ensuring a feeling of belonging and independence for students, faculty, and staff with disabilities, and thus is important to fostering inclusion and retention at Mizzou. In addition, increased accessibility often contributes to broader usability for everyone in the campus community.
With this in mind, Mizzou is committed to proactively considering accessibility as a factor in all projects, both small and large. All renovations and new construction projects include accessibility as a major consideration, and accessibility is a key component of our Campus Master Plan. In addition, Campus Facilities, the Office of Accessibility and ADA, and the Chancellor's Committee for Persons with Disabilities also regularly collaborate to pursue standalone, high-impact accessibility improvements.
Our Current Top 5 Accessibility Priorities in our Campus Master Plan: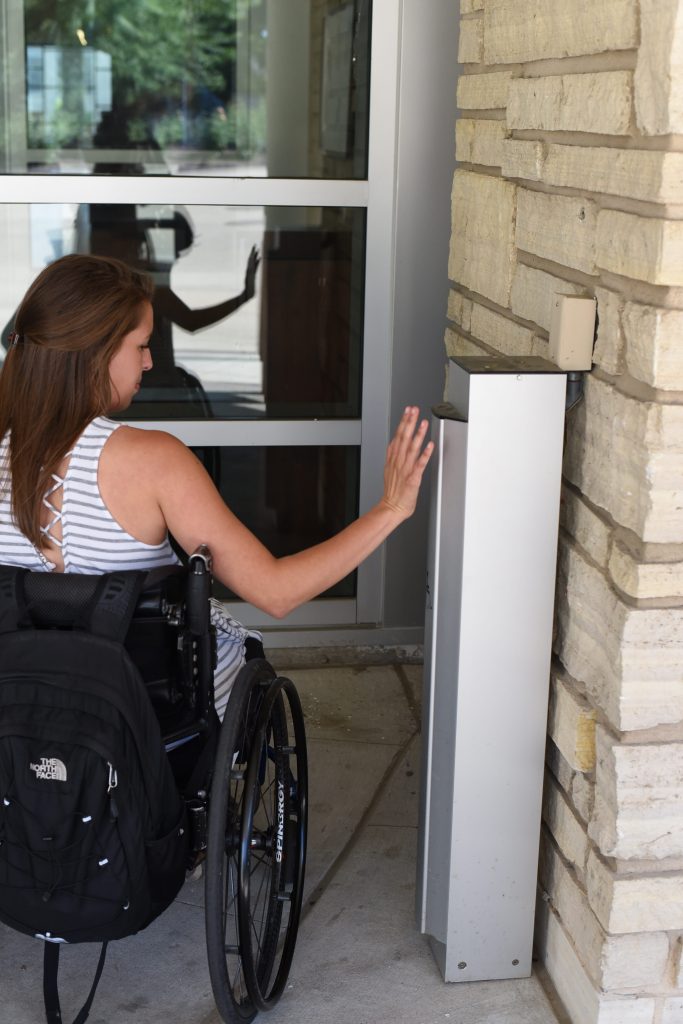 Elevators: Elevators are an essential component of accessibility, and ensuring the continued maintenance of elevators as they age is a primary priority. Over the coming years, we will continue to maintain and seek to replace elevators that become unreliable while also adding new elevators when needed within the scope of larger renovation projects.
Classroom and Event Venue Accessibility: Over the coming years, we plan to continue to make improvements to the accessibility of event venues and large classrooms and auditoriums. Improvements in this focus area may include replacing standardized seating options with more diverse seating options that accommodate students of all sizes, increasing the number of accessible seating options in both classrooms and event venues, and improving the accessibility of stages and instructor areas.
Restrooms: With each renovation, we will seek to both improve the accessibility of current restrooms and increase the number of single-stall, "universal" restrooms throughout campus buildings. These single-stall, all-gender restrooms serve persons with disabilities, particularly those who need assistance from a caregiver, while also increasing the inclusiveness and family-friendliness of campus.
Accessible Path of Travel between Buildings: We prioritize campus improvements that maximize accessibility of spaces between buildings, particularly sidewalks, curb cuts, and building entrances. Future improvements may include adding truncated domes to curb cuts, adding sidewalk connections and widening sidewalks, improving accessible parking areas, adding new accessible entrances, and improving existing accessible entrances.
Wayfinding Signage: In order to improve ease of use for persons using accessible paths, we will seek to improve accessible wayfinding signage inside and outside our facilities. This goal will focus on signage indicating the presence of elevators, accessible routes, and other important accessibility features.