The following resources are useful for campus visitors. Visitors can also contact the Office of Accessibility and ADA directly with any questions or concerns.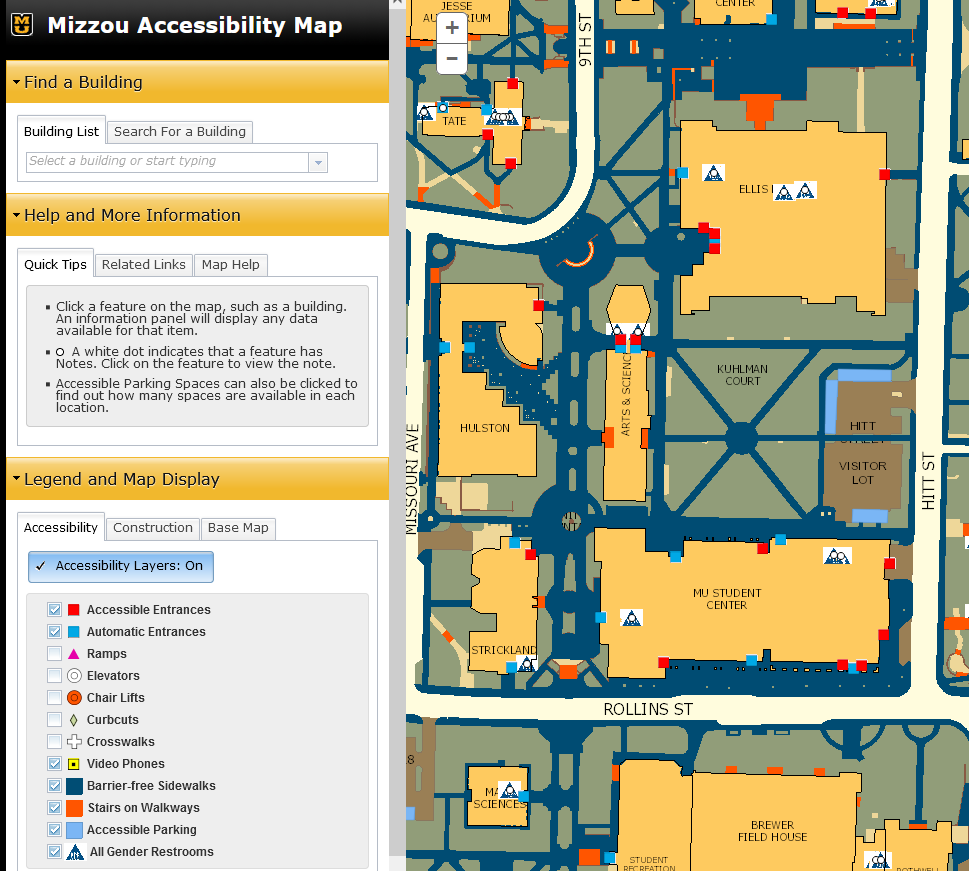 Campus Accessibility Map
Mizzou maintains a detailed map of accessibility features on campus, including entrances, stair-free sidewalks, ADA parking spots, elevators, and restrooms. To use the map, first zoom in closely on the area of campus you are interested in visiting or type the name of a building into the "find a building" search area, and then select the types of features that are most important to you from the legend. To view locations of accessible restrooms, click on the building to view a pop up window with restroom locations.
Accessible Parking on Campus
Information about accessible parking on campus is located on the Parking and Transportation website. Information about the locations of accessible parking spaces are located on the Campus Accessibility Map.
Athletics
Mizzou Athletics works to promote accessibility at their events and maintains a detailed ADA Guide with details about accessibility, ticketing, service dogs, and more.
To view accessible parking locations at Athletic Venues, please see the Athletics accessible parking guide.
Fans can also call 1-800-CAT-PAWS with any questions or concerns.
Commencement
For accessibility concerns related to commencement, visit the MU Commencement website.
Campus Visits
Planning a visit to the campus to consider becoming a Tiger? Contact Admissions if you need accommodations during your visit.